30 hour Online Drivers Education Approved by the California DMV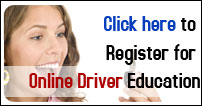 We offer 30 hour Online Drivers Ed Approved by the CA DMV and it will give you the DMV Certificate you need, PLUS all of the information you need to pass the written DMV drivers license test.

Our 10 chapter online driver's education course was created to be convenient and as interesting as possible. Our program was designed to keep you learning while actually enjoying your time on our site. Videos and interaction are presented throughout the course. Easy tests are given after each chapter to make sure you have retained the information presented.

Our website is very easy to use, when you register for our online driver's education course you can choose your own username and password to gain access, you will be able to log in and out whenever you want, when you return to the course you will be taken to where you left off.

Our online driver's education course and sample DMV video practice tests will provide the information required by the California DMV to help you in passing the learner's permit exam. Our course will guide you through the steps to properly learn the various steps to become a proficient, competent and safe driver. The goal of our course is for the student to successfully obtain their California learner's permit.